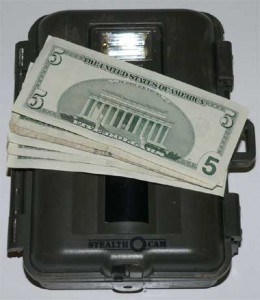 I'm sure you are all familiar with the 'Cash for Clunkers' program that the US Government recently ran in conjunction with the auto industry.  Of course you are, you couldn't turn on the TV or open a newspaper without hearing about it.
Well the game camera manufacturer StealthCam has jumped on the bandwagon, and started their own similar program called 'Cash for Cameras'.  If you are on the StealthCam mail131913191319ing list, you may have received an email131913191319 about this.  I did yesterday, and will be taking advantage of this program.  StealthCam will be offering $35.00 worth of 'bailout money' through this program which ends on October 31, 2009, so make sure you act quickly.
Here is how it works:
You can trade in any old (but functional) digital scouting camera for a $35 credit towards the purchase of a new StealthCam game camera that is priced at $149 or more.  You can trade in any brand of game camera.  The game camera that you purchase from StealthCam must also be in stock, and must be grand new.
You must call StealthCam at (877) 269-8490 to tell them that you want to participate in this program, and they will provide you an RMA number.
You ship the camera to StealthCam, and upon receipt, they will provide you a promo code with a value of $35.00 that can be used during the checkout process at the www.stealthcam.net website.
I called StealthCam, with some additional questions.  It was about a 15 minute phone call, start to finish.  I have an old STC-WD1 camera that I'm interested in trading in on a Sniper or a Nomad IR.
I had questions about the shipping.  Would I be responsible for shipping, which would reduce the value of the $35.00 credit I would receive?  The answer is Yes, and No.  Yes, you are responsible for the cost of shipping the camera to StealthCam, BUT they will ship your new camera to you Free of Charge.  So the shipping cost is a wash.
You have the option of how you want to ship the camera back.  So if USPS shipping costs less than UPS or FedEx, then you can ship via USPS>  It's up to you how you want to send it back, you just need to make sure that your RMA number is written on the outside of the box.
So I told them I wanted to participate in the program.  The service rep took my name, address, email131913191319, and model of camera that I will trade in.  They in turn gave me an RMA number, and an address to ship my old camera to.  Once they receive it, they will email131913191319 me the promo code.
I like it, and will be giving it a shot.