It must be that time of year, because I don't know about you, but I've been seeing a lot of nice bucks recently. I've seen some signs of bucks starting to chase does as well. I don't think they have really turned on yet, but they are getting there.
I've been testing the Cuddeback Capture behind my house over the last month or so, and I have to say that I am definitely impressed with it. You can see more information about this game camera's capabilities here:  Cuddeback Capture Review.  I've always been partial to infrared digital game cameras, because I love the ability to capture video images of game, especially at night when the activity is much higher. I like to know what is lurking after dark, because those are the bucks that you will typically end up seeing during the day when that rut kicks in and they start dropping their guard. Video lets you see more details at better angles as the game moves through, and you don't get to see just the lead deer, you get to see the ones that are following as well.
But with that said, this Cuddeback Capture is HOT, even those it only captures pictures and no video. This flash-based digital game camera is so simple to set up and use. So easy that a caveman can do it, as the commercial says. The rotary dials used to set the cameras settings had me up and running in seconds.
The trigger speed of the Cuddeback Capture and the Image Centering Technology are what I am most impressed with. I have captured numerous pictures of game on the move that are quality images with no blur. Many other game cameras with slower trigger speeds would have missed the shot all together, or given me a picture of a hind quarter. The Image Centering Technology gives you quality picture after picture of the game positioned in the center of the frame. I find myself sifting through more quality pictures with the Cuddeback Capture, than I do with any other game camera I own.
So take a look at the picture below I captured two days ago with the Cuddeback Capture. This 11 point buck will definitely have an arrow sent his way if he finds himself under my stand.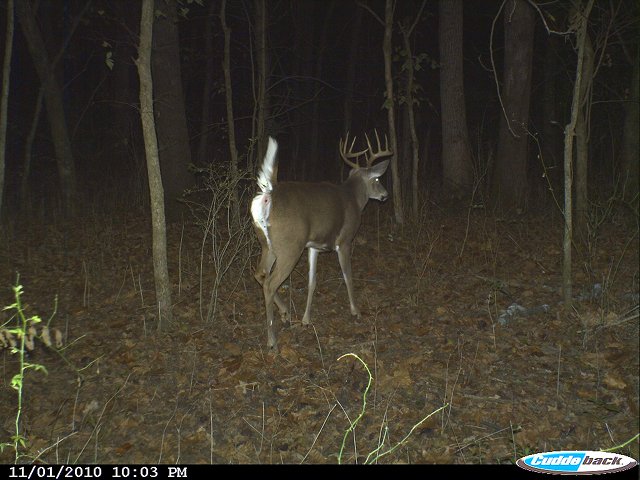 Note that I dropped the image size and quality down to 640x480 for the purposes of posting to the blog. These images are normally 2048x1536 when they come off the camera, showing much greater detail. Cuddeback still has their $25.00 rebate available on this camera. See this post for more information: Cuddeback Capture Rebate.