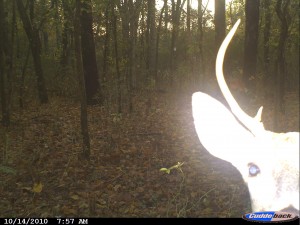 Talk about a closeup. This picture was caught on my Cuddeback Capture flash-based game camera this morning. I just wish the rack was a bit bigger.
I did have a number of recent nice buck pictures that I'll post soon. I even have a picture of a bachelor pack of 4 bucks all in one frame.
I've always been a fan of the infrared digital game cameras, but picked up this Cuddeback Capture when they offered the rebates on them.
I have to say that I am pretty impressed with the picture quality, the image centering technology, and the overall performance of this game camera.