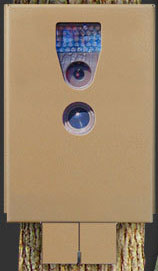 I received an email131913191319 from a friend in Canada that I have been swapping game camera pics with.  There were no pictures in this message this time.  Instead, he told me that his Cuddeback Capture IR was out of commission.
It seems that a bear came across his camera, and appearently did a number on it.  It had been ripped from the tree and appeared to have been gnawed on a bit.  It won't even power on at this point.  He obviously didn't have his Capture IR in a bear-proof security box.  Bears are very curious creatures and their sheer power can turn their curiosity into severe damage.  You need to be very cautious of scent when placing a game camera in bear territory, especially if you are baiting them.  If you get the scent of the bait on your camera, I can guarantee you that the bear will be very interested in it.
For me, not living in an area with bears, I typically just have to worry about game camera theft, not damage from wildlife.  To protect your game camera from destruction by bear, you really need a security box that is engineered with the bear in mind.
So if you are in the market for a security box to protect from bear damage for your Cuddeback Capture IR, then check out the following link for the lowest prices:  Cuddeback Capture IR Bear Safe Box .
You will find some heavy duty, all metal, bear safe enclosures designed specifically to protect the Capture IR.  These security boxes can be secured to the tree with lag bolts.  Once your game camera is placed inside, the cover is replaced, and a padlock can be added to secure your camera from damage or theft.