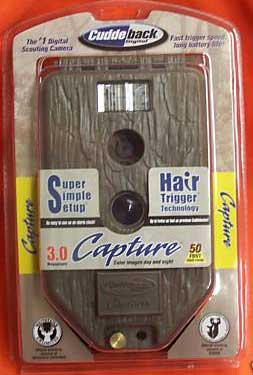 When you talk about Cuddeback, you are talking about quality digital game cameras. The Cuddeback Capture is said to be one of the easiest to use digital game cameras on the market today. The rotary switch makes programming this camera a breeze. Watch the video review of the Cuddeback Capture to see why this camera is so hot...
This camera has a very fast trigger speed.  Twice as fast as the previous models.  You can get up to 2,000 pictures on a single set of 4 D-cell batteries.  The 40 foot flash range gives you both daytime and nighttime color images.  The 3.0 megapixel daytime images and 1.3 megapixel nighttime images are stored on internal memory or standard SD memory cards.
You have the ability to set delays between 30 seconds up to 30 minutes.  This camera is durable, and has an all-weather housing. Some users report having this camera operating in -50 degree weahter, with no issue at all. Check and the review below, and see what Cuddeback has to offer.  And visit our store to find rock bottom prices on the Cuddeback Capture.