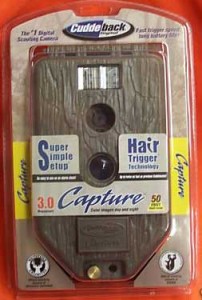 OK, by now I guess it's no secret that I really have been enjoying my testing with the Cuddeback Capture.  The fact that my last few posts have been about the Capture probably gives that away...  Since I have written about the rebate recently, I have received many questions about problems with the rebate process.  The rebate is good on purchases made on the Capture and Capture IR up until 04/30/2011.  But you need to pay attention to detail when filling out the rebate form...
I wanted to share a few tips to make sure your experience with the rebate process is a good one.  I received a rebate check for my Cuddeback Capture this week, so I know the process is good if followed correctly.
The first link you will want to check is here:  http://cuddeback.com/2010rebate.html .  This page will walk you through the steps for the rebate form submission.
I got my rebate form at the retail location where I purchased the game camera.  But you can find the same printable form online here:  http://cuddeback.com/images/Rebates_and_offers/7_2010_Rebate_2.pdf .
Make sure you fill out the name, address, phone number, date, email131913191319 address, where it was purchased from, and the date that it was purchased.  You need to be aware that Cuddeback cameras purchased from eBAY or Craigslist are not eligible for the rebate.  There are actually only specific Authorized Online Dealers that you can purchase a Cuddeback Capture from and still be eligible for the rebate.  Bass Pro Shops
, Cabela's, Gander Mountain and other popular online outdoor retailers.  No Paypal receipts will be accepted.
Make sure you check the proper box for the model of camera that you are submitting the rebate for (i.e. Capture or Capture IR).  You will need to include the serial number for your camera.  Many people have had trouble locating this.  Here is a link that will show you exactly where to find the Cuddeback Capture Serial Number.
You will need to include the Proof of Purchase from the packaging.  Now this is something I had a lot of trouble locating myself, because I didn't have one on my packaging.  I called Cuddeback directly at 920-347-3810, and after determining that the Proof of Purchase was missing, they offered mail131913191319 one right out to me.  I had to provide the serial number from the camera, but after doing so, I had the Proof of Purchase in my hands in 3 or 4 days.  This will be a red or gold sticker that says "Capture IR $50 Rebate" or "Capture $25 Rebate".  Beneath that, it will say "Proof of Purchase".
Cut the UPC code from the packaging, and include it.  This will be the bar code that gets scanned at checkout.
Include the Cash Register receipt that contains the store name, and the qualifying camera that you purchased circled on that receipt.  Make sure you include the bar code for that purchase, and ensure that the date purchased is between July 01, 2010 to April 30, 2011.
I appreciate the help that Cuddeback offered me during this rebate process, and hope that these tips are just as helpful to you.