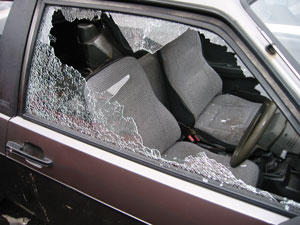 I received a call from a friend this morning stating that his car had been broken into, and his GPS was stolen.  This is the second time in recent weeks that this has occurred.  Last time, it was his wife's vehicle.
As he went through the different ideas he had on how to catch these crooks, I had a great idea ...
I offered him the use of my new StealthCam I540ir Infared Digital Game Camera.  I own several game cameras, and with the deer season coming to an end, his needs are more pending than mine.  With the camera stategically place (and locked with a cable lock) up in a nearby tree, all the actions of the would-be thieves can be captured on video.  It is most likely one of the unruley neighborhood kids that typically wreak havoc throughout the neighborhood, but without hard proof, he has no means of seeing justice done.  With 36 infared emitters, the ability to capture video in the dark at distances up to 40 feed, and the no-flash technology, this might just be the tool that gets him the proof he needs.  This stealth-mode operation will allow the camera to capture the crime on video, while being totally undetected.
This isn't the first time that I have used my game cameras for surveillance.  On two prior occasions, I have used my cameras to resolve situations or crimes that would never have otherwise been confirmed.
Several years ago, I leased land from a farmer who owned 1,400 acres of hard timber in some of Kentucky's best bourbon producing country.  I regularly showed the farmer pictures of game that I was getting from my cameras strategically placed on his land.  One day, the farmer approached me about an issue he suspected with a logging company that was selectively logging red and white oaks from his land.  The farmer suspected that loads of timber were being taken from his property, and not properly being recorded with the logging company.  The company came and went as they pleased, and the farmer was not in a position to monitor their activity and every load of timber that was removed from his property.  The company was logging the back of his property at the time, which was a good 3/4 mile off the main road.  He asked if he could use on of my cameras to monitor the gravel road that led back to the logging area.  This way he was able to determine how many loads of timber were leaving his property.  This story had a happy ending for all involved.  You see, the farmer was a genuinely good person that didn't wish bad on anyone.  After stealthily placing the camera on the gravel road, he had a talk with one of the drivers that hauled the timber.  He told him of that he didn't think he was getting paid for all the timber that was leaving his land, and let the driver know that a 'surveillance system' had been put in place to monitor their activity.  The farmer's timber checks got bigger, and no one got in trouble.  That was all it took to get the results he wished for.
Over the last summer, another friend had an issue with grafitti vandalism being done to the back of a privacy fence on the rear of his property.  This fence faced a main road, so it was prime real estate for the vandals.  Due to the location, he had no way of keeping watch on the fence from his home.  The vandalism was occurring late at night, and was occurring on a frequent basis.  After placing one of my infared game cameras on the back of his property, all the evidence that was needed to stop the vandalism was obtained.  When the parents of three neighborhood boys were provided CDs containing videos of their children spray painting my friend's fence, he received a visit from the kids and their parents.  The apologies were received from all, and that weekend, the tree boys worked two days to restore the fence to its original appearance.  He has experienced no issues since.
Digital game cameras are excellent tools for security and surveillance.  They can act as a great visual deterrent, as well as gathering the evidence that you need.  There's no arguing the facts when you have video to back up your claims.