Leupold Enters Trail Camera Market With the RCX Trail Camera System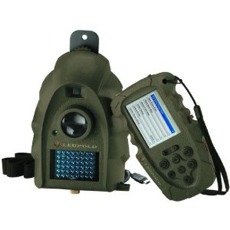 When you think of Leupold & Stevens, their high quality rifle optics or their Leupold Vendetta probably comes to mind. Well, the Beaverton Oregon company has recently entered the trail camera industry with their innovative RCX Trail Camera System. Their initial offering isn't bringing just a basic trail camera to the market. On the contrary, they have introduced a trail camera system that is packed with features and some very innovative technology.
This trail camera system strips some of the electronics out of the camera itself, and moves those features over to their RCX Controller. This controller consists of a 3 inch TFT display and a series of buttons. You can configure any number of RCX-1 or RCX-2 trail cameras using a single controller. It also allows you to view your pictures and videos in the field, download pictures from your cameras to the controller's memory card, and even get a real time view of what your camera sees. This is a great option when setting your camera up, to ensure you have it positioned just right.
The RCX cameras are sold separately, or in a kit which included an RCX Controller. A controller is required to set up and manage your cameras, so it is recommended that you start off by purchasing an RCX camera kit. Then you can just purchase individual trail cameras as you expand your game camera arsenal.
For more details about their trail cameras, you can read the Leupold RCX-1 and Leupold RCX-2 reviews, but in the meantime I'd like to touch on a few of the new innovative features that Leupold is offering in their trail cameras.
The RCX Controller

As mentioned above, this device is used to set up and manage your RCX cameras. It allows you to view your pictures and videos, and also to consolidate all of your camera images to its memory card. This is a great option for visiting your game cameras and collecting all your images. In addition, this device serves as a picture viewer for other brands of scouting cameras that you may own.
You can insert their SD card into the controller and view their pictures on the spot. With its USB cable, you can also attach this device to your computer and it will serve as a card reader.
Preset Modes
The set up of these cameras is a breeze if you use one of their preset modes. You can choose from one of these four settings depending upon your needs or the conditions, and your camera will automatically have a variety of settings configured to meet those needs.
The Best Picture Mode will capture the highest quality images. For the RCX-1, the images are at 8 MP. For the RCX-2, the images are at 10 MP.
The Most Picture Mode will set the camera to high sensitivity mode and shoot 3 pictures per activation. The quality is reduced to 3 MP.
The Power Saver Mode takes 3 MP images, incorporates a 5 minute delay between activations, and only uses 36 of the 48 LEDs to conserve power.
The Normal Video Mode captures 640x480 videos at 30 frames per second, in lengths of 5 seconds. It incorporates a 5 minute delay between activations, and uses 36 LEDs.
You have the option of overriding any of these settings and configuring the options to any setting that you wish by doing a custom camera configuration.
Dual Sensor Technology
The RCX-1 comes with a wide 45 degree sensor and the RCX-2 has both the wide 45 degree sensor and a narrow 10 degree sensor. The 45 degree sensor has a range of 45 feet. The 10 degree sensor has a range of 90 feet. You can configure the RCX-2 camera to use either sensor depending upon what your needs are. The RCX-2 camera also has the ability to have both of these sensors active at the same time, which really extends the detection capability of this trail camera.
Auto Sensitivity Adjustment
The sensitivity of the cameras will automatically be adjusted depending upon the surrounding air temperature. It hot weather, it is more difficult to detect the heat emitted from passing game. So in higher temperatures, the camera automatically adjusts to a higher sensitivity. In cold weather, the sensitivity is automatically set lower to avoid having the camera be triggered by small game animals such as squirrels.
Time Lapse Mode
The time lapse video feature lets the camera automatically take a picture at intervals you define. This can allow you to capture images of game that is beyond the range of the sensor. This option is great for food plots or covering large fields.
External Power Sources
Many game cameras allow you to use an external power source, but Leupold has done this while offering you a lot of flexibility. The battery cable (which is included in the camera kits) can be used to connect to any 12 volt car or motorcycle battery. You do not need to purchase an external battery directly from the manufacturer, like with other game cameras on the market. You have the flexibility to choose the brand and type of battery that you will use.
Leupold & Stevens has really aimed to impress with their RCX line of game cameras. They are highly configurable and offer many more features than what I have touched on here. For more information, read the individual reviews.
I am happy to see other companies entering the trail camera industry and push the envelope of innovation. I suspect that the Leupold RCX is here to stay.