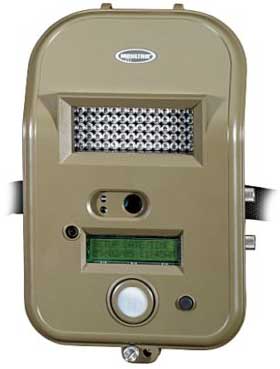 Here is a collection of videos taken with the Moultrie I-60 infared digital game camera.  It shows examples of daytime and infared nighttime footage.  This camera features:
a 1 second delay
3 resolution settings
time/date/moonphase photo stamping
a flash range of 45'
external power port
32 MB internal memory
2 video resolutions
laser aim
upgradable software
should I go on ...?
This camera is packed with features.
The camera uses 6 D-cell batteries.  The infared flash means that you will avoid spooking your game.  This camera takes great pictures and video at night, shooting images up to 6 megapixels.
The built-in image viewer is an attractive feature of this camera.
If you want to see the lowest prices available on this camera, check out the following link:  Moultrie I-60 .