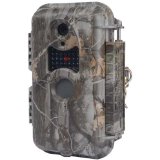 I have apparently had my head in the sand over the last few months, because I totally missed the news about Outdoors Extreme Corp filing for Chapter 7 bankruptcy. I usually try to keep my finger on the pulse of what is occurring with the major trail camera companies, and was shocked to discover.
The Outdoors Extreme Corp (OWC) manufactured and distributed the Predator line of trail cameras since June 25, 2010. The Predator trail camera line included the TrailEye, the Xtinction, the Evolution, and the Informer. They filed for bankruptcy on 01/28/2011.
While this may be good news for the competing game camera manufacturers on the market, it spells bad news for owners of Predator trail cams. The Saxon, Wisconsin company has stated that there will be no future sales or support for their game cameras. Any warranty or other proof of claims should be filed with bankruptcy court.
There is a statement of their bankruptcy proceedings on their website at PredatorTrailCams.com. In this statement, they apologize to their customers for any and all inconveniences associated with their proceedings. Unfortunately, this is little help for the owner of a broken Predator trail cam owner in need of service.
I did attempt to call the company to see if there are any support alternatives for their past customers that are in need of assistance. The number was disconnected. So if you own a Predator, it looks like you are on your own from this point on.
One disconcerting result of their bankruptcy is that their main webpage has been replaced by the bankruptcy notice, so none of the other pages on their website (including their support and manual pages) are easily accessible. They are still there though, just the navigation from the main page has been disabled. You can use the link below to get to one of their deeper pages, then navigate to where you need to go.
If you own a Predator Xtinction or Predator Evolution, then I recommend that you go to the following link ASAP. Determine if you need any of the firmware updates and download them now. There is no telling how much longer this website will be online, and when it is gone the firmware updates will be too.
Predator Firmware Updates
If the website comes down before you have a chance to get the updates, use the DeerTrackingCameras.com Contact link to send me a message. I have a copy of them and will gladly send them to you.
If you are the kind of person that likes to roll the dice, than you can get some great deals on the Predator Trail Cameras that remain on the market.  All companies that carried the Predators are unloading them from their inventory.  You will be rolling the dice, because you won't get any support with them.  I've seen the Predator Evolution XR infrared digital game camera selling for $189.95 (normally $419.99).  You can click on this link to see some of the Predator Closeout Deals.
I for one, am sorry to see Outdoors Extreme Corp and their line of Predator trail cameras go.  I personally think that the more game camera manufacturers there are, the better it is for us - the consumers.  Competition fuels innovation and drives pricing.