New for 2008, the Reconyx RC60 Covert Color IR Game Camera comes with a hefty price tag ... around $600 bucks to be exact.  Is it worth it?  Well, it is if clear nighttime images at a distance is what you are after.
The RC60 has a new patent-pending Light Filtering Technology that extends its nighttime range to about 35 feet.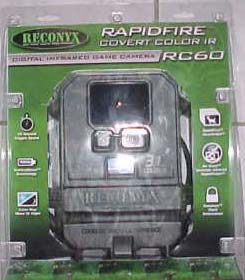 The 3.1 megapixel density gives you clear full color images during the daytime, and sharp infared monochrome images at night.
The trigger speed is .2 seconds on this game camera, and it can shoot at 1 frame per second.
Do you own a Reconyx Digital Game Camera?  If so, we would love to hear your take on it and see some of your pics.