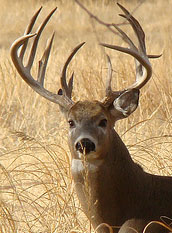 The popularity of game cameras has increased throughout the years which indicates they are fun to use and they give hunters an upper hand in the woods.  Game cameras a fun to use in the off season, and give hunters a good excuse to spend more time in the woods.  The edge a hunter gets comes from having an extra set of eyes in the woods to help you hone in on active trails and determine the routes that better quality deer are using.  I use my game cameras to fine tune my stand locations and put me on good deer.  Even if you can't determine the locations or movement patterns of that trophy buck you are after, you should be able to pattern the movement of the does on your property.  Get on the does, and the bucks will be following when the rut comes in.
Scouting cameras can offer a hunter the following advantages:
Pattern general movement of deer on your property.
A hunter can learn how deer are using the property.  By taking note of the sightings of deer within your property boundaries, you can determine their movement patterns, the times they are moving through specific areas, where they are bedding, where they are feeding, etc.
Patterning individual bucks.
I have been fortunate enough to pattern some individual bucks over the years.  By determining the direction of travel in the mornings and evenings, you can figure out where to locate your stand to optimize your chances of getting that shot of a lifetime.
Eliminating the guesswork.
Game cameras can be ideal for sampling the quality of the land you choose to hunt.  I have placed game cameras on multiple farms leading up to opening day.  By reviewing the images and videos from these game cameras, I have been able to determine which pieces of property are holding better quality deer, and have made decisions on which land to hunt based on this data.  It is all about being in the right place at the right time.
Building Confidence.
A hunter that has seen images of good quality deer is much more likely to be able to remain in the stand longer, and have much more confidence in the location they have chosen for their stand.  It can be tough to stick it out and stay in the stand as it gets later in the morning.  By analyzing the images from game cameras, I have seen deer utilizing specific trails later in the morning or early afternoon.  A hunter armed with this knowledge will have more drive to stay on stand longer and increase the chances of harvesting deer during these secondary movement times.
A Major time saver.
Scouting cameras can be major time savers.  I can remember back when I first started bow hunting.  This was back in the days prior to game cameras being such a common commodity.  Me and my hunting buddy would drag our climbers into the woods prior to the season, and prior to daylight.  We would sit in the stands on different locations of the property and note the number of deer that we saw, their direction of travel, and the times that we saw them.  We would do this for many days prior to the season opener.  Armed with this knowledge, we would determine our stand locations for the opening day, and fine tune these locations if necessary after each hunt.  Now, we can have our game cameras do this work for us, and we can reclaim some of that scouting time.
If you have never used or owned a scouting camera, you don't know what you are missing.  Things have changed a lot since the days of 35MM film game cameras, and advancements in game camera technology have definitely given hunters a decided edge.  I have to warn you though... game cameras can be an addictive hobby.  I now own 10 game cameras, and will soon be purchasing another.  And I'm sure that won't be the last.