Stealth Cam has a variety of accessories available for its wide range of digital game cameras.  Here is a quick review of what is available to expand or enhance you Stealth Cam digital or 35MM trail camera.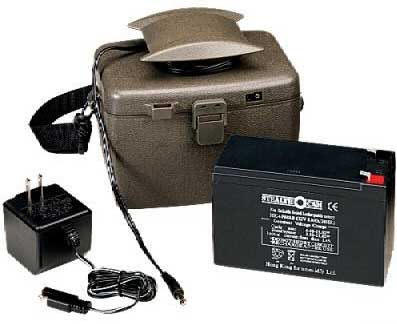 Memory Cards
STC-2SD
A 128 MB Secure Digital memory card
STC-2CM
A 128 MB Compact Flash memory card
STC-2SD128
A two pack of 128 MB Secure Digital memory cards
STC-2CM128
A two pack of 128 MB Compact Flash memory cards
Memory Card Readers
STC-MCR1
A USB 2.0 All-in-One Card Reader.  This draws power directly from the USB port.  It is fully plug and play compatible, and supports SD and CF cards.
STC-SDCR1
A USB 2.0 Key & SD Card Reader.  Supports plug and play, SD and Mini SD cards, and is hot-swappable.
Battery Kits
STC-12VBB
A 12-volt battery kit that is compatible with all Stealth Cam digital cameras equipped with an external power jack.  This comes with an AC charger and a weatherproof box.  It also had a 10 foot cable and hanging strap.
With the money you save on buying batteries, these battery kits pay for themselves.  An no more missed pictures from dead batteries.  You can run on a whole season with a single charge.
STC-6VBB
This is the 6-volt battery kit.  It is also compatible with any Stealth Cam trail camera that has an external power jack.  It comes with the same accessories and benefits as the STC-12VBB listed above.
STC-CBL
This is a 10 foot heavy-duty outdoor gauge cable for use with the 12V or 6V battery kits.  The battery kits come with this cable, so you would only need this part if you need a replacement cable.
RealTree Adhesive Decal
STC-DECWD
So you don't like the solid green or black color that most Stealth Cam game cameras come in by default?  Worried that your Stealth Cam is too visible in the woods?  Well then dress it up with a RealTree adhesive decal.  This decal is made from long lasting 3M non-reflective adhesive.  It will not fade, even under extreme weather conditions.  It is a cost-effective solution to camouflaging any of your Stealth Cam digital game cameras.
Wrap Around Lock Brackets
You spend too much money on your digital game camera to not secure it from theft.  I've had a game camera stolen before, and will never leave one in the woods again without locking it down.  The Wrap Around Lock Brackets are an effective way to secure your Stealth Cam from theft.  It isn't going to stop a thief with a set of cable or lock cutters, but it will prevent crimes of opportunity.  They are available for all Stealth Cam digital and 35mm camera models.  It uses durable steel plates that wrap around the camera, securing it from would-be thieves.  It uses a 4 foot long, heavy-duty 6mm diameter cable to secure your camera to the tree.  You supply your own lock and key.  There are different brackets to support different models of cameras:
STC-DLB
Supports the Stealth Cam I590 and I540IR.
STC-GBLB
Supports the Stealth Cam MC2-GV.
STC-LBW3
Supports the Stealth Cam V550MTR, I230IR, V450, I450, V650, I550, and I430IR.
STC-LBDV
Supports the Stealth Cam STC-DVIR5 and STC-DVSIR5.