I recently picked up the Stealth Cam Nomad IR digital game camera kit for evaluation.  I had high hopes for this low cost trail camera, but have to say that I was disappointed in its performance.
I was excited to test this scouting camera because of its low price point.  I picked up the kit for around $149.00, which included the I-530 game camera, a 2 GB memory card, batteries, and a security bracket.  I've had lots of questions from readers looking for the best infrared game camera at the lowest price possible.  I had hoped that the Nomad IR would meet that criteria, but there were ultimately some issues during testing that would make me not recommend this game cam.
The first minor issue I encountered was with the mounting bracket.  I've had previous Stealth Cams and previous mounting brackets, but this one just didn't seem to have as tight of a fit as prior models.  This normally wouldn't be a concern, because it is still a very secure solution, but the issue is that it could potentially shift its position and block the camera lens.  I ended up using a twist-tie through the bracket lock hole to hold it tight to resolve this issue.
My big concern with this scouting camera had to do with performance related to image quality.  This camera had big issues during the transition periods from light to dark.  This resulted in pictures that were washed out due to over compensation by the infrared LEDs.  It's almost like the timing needs to be changed to allow the LEDs to cut off sooner.  I have a series of videos near dawn that start off looking OK, but are increasingly washed out by the IR LEDs as more daylight sets in.
Here are some example images from these videos:
This first image was from a video captured at 6:32 am.  Note that it is a bit washed out.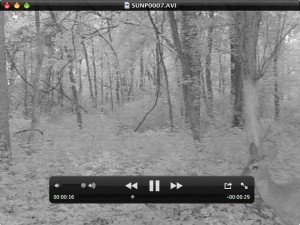 This second image was from a video captured at 6:42 am.  Note that it is even more washed out.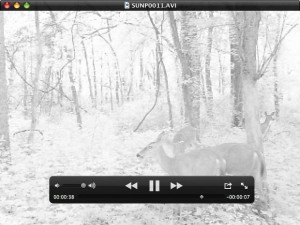 This third image taken at 6:50 am is barely viewable because it is almost completely washed out.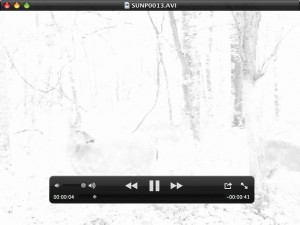 You can see how this became more of an issue as the natural light increased.  This issue continued until the IR LEDs completely cut off, and pictures were just taken with natural light.
In Stealth Cam's defense, I may have just gotten a lemon of a game camera for my testing.  I spoke with the service employees at the retail establishment where I purchased this game cam, and they stated that they had not seen and unusually large number of returns on the Nomad IR thus far.  I ultimately swapped this game camera for the new Moultrie I-35, which has the same price point as the Nomad IR.  The I-35 is the next model that I'll be testing in my quest for a low-cost game camera that still offers good performance.
You can see my full video review below.  Any comments on my YouTube video are appreciated.