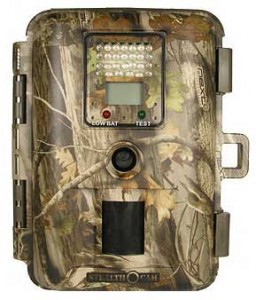 New for 2009, the Stealth Cam Nomad IR digital game camera is yet another great offering from the popular game camera manufacturer that is loaded with features.  This infrared digital game camera, model I530IRx2, is capable of taking photographs and capturing video in the daytime or at night.  Best of all, this game camera is infrared, which means there is no flash at night that will spook your game.
It can give you high quality VGA video, and will record video clips any where from 5 to 90 seconds in length.  The Nomad has 32 MB of built-in RAM, but accepts standard SDRAM memory cards of up to 2 GB in size, so storing lots of images and videos will not be a problem.  We recommend that you have multiple SDRAM cards.  They are inexpensive, and you can just quickly swap out your memory cards when checking your camera, and view the images and videos from your home PC.
The Nomad IR will capture images in high quality mode of up to 5 megapixel resolution, and will capture images by day and night.  The image quality is sharp, and all images are stamped with the date and time, as well as temperature and moon phase.
For still images, you have the option of 5MP, 3MP, and 1.3MP resolutions.  The daytime images are in color, and night time images are black and white.  The burst mode setting can be defined to take between 1 to 9 image upon each activation of the PIR.  And the PIR can detect game out to 30 feet.  Its 27 infrared emitters give the Nomad clear images and video out to 30 feet in pure darkness.

You will like the new icon-based programming, and ease of use.
The Nomad IR is powered by six standard C cell batteries, but it also accepts the optional 12 volt power supply for extended operation in the field.  A mounting strap is included, but we recommend adding a cable-lock, or pad lock with a security cable for protection from theft.  A USB cable is also included in the box, for hooking the camera up to your PC.
We like the new camo design over the drab green or black colors seen on previous stealth cam models.  So if you are in the market for a new game camera, give the Stealth Cam Nomad IR a closer look.  It is sure to please.
See the Best prices on Stealth Cam Nomad IR