I did a post a few months back on the top selling game cameras per Amazon's best seller list.  That was a very popular post, so I wanted to revisit it with a follow up to see which game cameras are currently landing in the top 5 positions.  You can be assured that that these game cameras are falling into the top spots for one of two reasons: 1 - quality or 2 - price.
I'm seeing evidence to support this once again, with some quality game cameras showing up on this list, but also some discounts that range between 38% - 50% off the retail price.  And one of my personal favorite game cameras took the number one position with a whopping 50% discount.
Please note though that the discounts vary as the sale periods may discontinue after a period of time.  The prices listed below are accurate as of today's date.  So let's take a look at the list.
#1 - Bushnell Trophy Cam 8MP - Model 119436C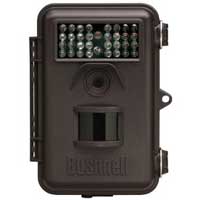 It is no secret that the Bushnell Trophy Cam is one of my favorite cameras on the market today.  So I was pleased to see this one take the number one position.  I personally own this game camera, and would highly recommend it.  This is a small infrared digital game camera that measures 3.5 inches wide x 5.5 inches tall.  It has 32 LEDs that are capable of illuminating your game out to 45 feet.  The 1 second trigger speed isn't the fastest on the market, but it puts it in a range that beats many comparably priced trail cameras.
One thing I really like about this game camera is the video capability.  You can get widescreen videos of up to 60 seconds with audio.  The video has always been a consistent performer.  Video allows you to study your game from multiple angles as they are moving, instead of just looking at a single picture.  Video also lets you capture images of all the deer that may be traveling in a group after the initial activation of the sensor.  With the delay settings on a lot of cameras, you can often miss these trailing animals.
The battery life on this scouting camera is also incredible.  You can get up to 1 year of operation on a set of 8 AA batteries.  That lowers your total cost of ownership over time, because you need to purchase replacement batteries less frequently.
Currently offered at $147.59, you can get the Bushnell model 119436C at over $145 off of the list price.  That is a 50% cost savings.  Check out the specs on this one.
#2 - The Primos Truth Cam 35
This is the entry level game camera offered by the Primos company, who is still kind of the 'new kid on the block' of game camera manufacturers.  Primos has been manufacturing outdoor gear for many years, and they have always offered quality merchandise.  They have upheld their quality standards with their Truth Cam line of scouting cameras.
I don't currently own the Truth Cam 35, but I have owned and personally tested one in the past.  I do still have their Truth Cam 46 in my game camera arsenal, and have been very pleased with both of them.  It is currently available for $78.03, which is almost $42.00 off of the retail price for a savings of 35%.
So what is so great about the Truth Cam 35?  Well, it is an inexpensive game camera, that is just simple to use.  It comes pre-setup to use its 35 LEDs to capture infrared pictures and videos of your game out to a distance of 40 feet.  The trigger speed on this model is about 1.5 seconds when coming out of sleep mode, but only .3 seconds when not in sleep mode. The battery life from the 4 D cell batteries was decent for a camera of this price.
The image and video quality is decent at 3 megapixels.  It can be set to capture images in bursts of 1, 3, 5, 7, or 9 images with each activation of the passive infrared sensor.  It will take up to an 8 GB memory card, and will stamp each image with the date, time, temperature, and moon phase info.
I really like the fact that Primos has included a molded security cable hole through the body of this camera for added security.  You can use a Masterlock Python security cable to prevent theft.
You can see the Truth Cam 35 Specs here.
# 3 - The Wild Game Innovations 6.0MP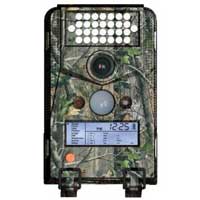 Back at the end of 2011, you could have picked up this game camera for $50.00.  I was highly recommending that people pick up this camera then.  That sale is done and gone for now, but you can still get this scouting camera for about $92.00, which is 38% off of the retail price.  I still think this is a good camera for the money, but at $92.00, I wouldn't recommend it as highly as some of the other models that are currently on sale.
The main thing that really stands out for me on this model W6X, is the crisp infrared images.  I still own this game cameras, and I occasionally pick up a little blur on some moving game.  But the other images are sharp, and the 6.0 MP offers excellent detail.  The 30 high intensity LEDs have a flash range of 50 feet, and you can capture 640x480 video clips at 30 frames per second, in addition to the video clips.
A couple of things that I don't like about this game camera is the battery life, and the lack of physical security.  There is no good way to lock this game camera to prevent theft, so you need to pick up a security lock box if you are going to purchase this game camera.  I was getting about 45 days on a single set of 8 AA batteries.  While that isn't horrible, there are a lot of other game cameras on the market that easily beat that battery life.  Since buying batteries increases your cost of ownership of a game camera, you need to take the battery life into consideration before purchasing.
You can read more about the W6X and read its 3.8 out of 5 star reviews by clicking here.
#4 - Primos Truth Cam 46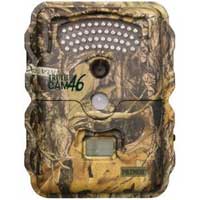 Well, Primos has landed another of the top 5 best selling spots with the Truth Cam 46.  This camera got an average customer rating of 4.1 out of 5 stars.  I personally own this camera as well, and would tend to agree with the rating.  It isn't the best camera on the market by any means, but for the current price of $99.00, it is tough to beat.  That is a 38% discount from the list price, giving you $60.99 in savings.
Just like the Truth Cam 35, the Truth Cam 46 has the molded security cable hole through the camera housing.  I really like this for security.  Primos has amped this camera up with 46 infrared LEDs, which give you a range of 50 feet.  It has the same 1.5 second trigger when coming out of sleep mode, and .3 seconds when not in sleep mode.  This game camera can do everything that the Truth Cam 35 can do, but it can capture images at 5.0 MP instead of the Truth Cam 35's 3.0 MP.
You can read more about the Truth Cam 46 and see the customer reviews by clicking here.
#5 - Moultrie Gamespy D-50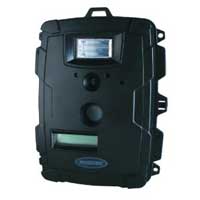 I was actually surprised to see the D-50 in the list.  This is a strobe flash-based game camera, where all the others in the top 5 best sellers were infrared game cameras.  With an average 3.6 out of 5 star customer review, I think that the Moultrie D-50's current low cost of $65.33 has pushed it up on the list.  That is still a $24.66 discount, or a 27% cost savings off of the list price.
The D-50 is capable of capturing videos during the daytime, but it is limited to 10 second clips.  On the other hand though, you do get color images by day an night since this is a flash-based camera.  The infrared cameras only give you black and white images at night.  The flash can reach out to 45 feet, and it has the capability of taking up to 3 pictures with each activation of the infrared sensor.
I don't personally own this game camera, so I can't offer a recommendation on it.  I will tell you that the last Moultrie game cameras that I owned had some pretty slow triggers on them, and they weren't all that great on battery life.  In my experience, they were better as feeder cams than trail cams.  So I'll let you be the judge on this one.  You can see the Moultrie D-50 specs and user reviews here.