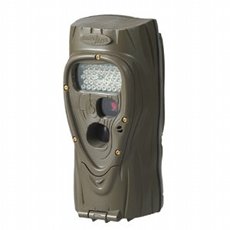 Cuddeback has gone quite a long time without releasing a new game camera. Well, they broke their silence with the introduction of the Cuddeback Attack and the Cuddeback Attack IR. Since I already own a Cuddeback Capture, and have been very pleased with it, I was eagerly awaiting the delivery of my new Attack IR, which I picked up for just over $200.00.
You can find the best price and get free shipping on this trail camera by clicking here: Cuddeback Attack Best Price.
My Cuddeback Attack IR has been in the woods for a while now, and I have had a chance to review the pictures and videos and see what this new game camera is capable of. I'll share those images below, but first let me tell you a little bit about this game camera's features.  What struck me most about this 5 MP infrared digital game camera, is all of the new technology features that Cuddeback has added.
The Attack IR uses 36 infrared LEDs to allow it to capture pictures as well as videos in pure darkness with no strobe flash. Cuddeback has introduced their Rapid Pulse Illumination technology, which will pulse the LEDs for just a quarter of a second while capturing night images. This reduces the LED glow associated with traditional infrared cameras, and helps to reduce the chance of detection.
The Adaptive IR Image Enhancement technology makes sure that the images are exposed properly. If you have used other infrared digital game cameras in the past, you are familiar with how deer can become over-exposed and whited out when they are close to the camera. This technology takes into consideration close up game and avoids over-exposing them.
The images and videos are in color during the daytime. At night, they are of course black and white. It has that same rapid hair trigger speed that Cuddeback has a reputation for. So you can say goodbye to the empty pictures resulting from fast moving game. The Attack can pick up a deer running over 20 feet per second. If you do the math, that is over 13 miles per hour.
Cuddeback's Video Plus technology captures a still image, plus 30 seconds of video at 24 frames per second. So you don't have to sacrifice one mode for the other. You get an image and video.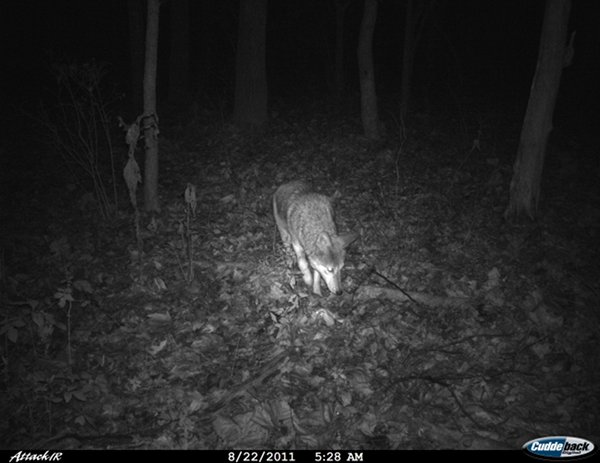 Their SmartColor Image Technology gives more intense and vibrant color images. The Attack supports SD cards of 1 GB to 32 GB for storing your images. But if you forget your card, you can still capture up to 60 images on the 60 MB of internal memory.
Powered by 4 x D cell batteries, the Attack IR can capture over 50,000 pictures on a single set. Their Full Season Battery Life technology will give you up to 1 year of operation on a single set of batteries. This equates to a lower cost of ownership. You will spend less money on batteries than other brands of cameras to keep your trail cam up and running.
You will be happy to see that they continued their easy setup methods used in their previous game camera lines. You will recognize that familiar rotary knob used to select the modes of operation. Two buttons and a video mode switch round out the controls.
One feature I haven't tried yet is their USB download. You are supposed to be able to insert a USB thumb drive into the camera's USB port, rotate the knob to the "USB" setting, and you can copy your images from the memory card to the thumb drive. This is a great option for collecting your images from multiple cameras. You can leave your SD card in the camera, so no need to purchase a bunch of extra SD cards. I'll get this tested on my next trip into the woods.
Both of the Attack models have the same Center Subject Technology that was present in the Cuddeback Capture. This technology will take the picture when the game is in the center of the frame. This reduces the number of pictures of just tails or noses that you might be used to getting from other game cameras. This results in better quality pictures.
Another new feature with the Attack is the Cuddeback Guard Duty Time Lapse mode. Over the last year, time lapse video game cameras, like the Plotwatcher, have gotten a lot of press. They really are neat devices, because they give you a broader view of the game activity that is occurring in your area. They are designed to take pictures at timed intervals all day long. When the pictures are played back in succession, you essentially get a movie of the game activity occurring in front of your camera for as far as the eye can see. No need for game to pass 20 or 30 feet in front of your camera's sensor.
Cuddeback's Guard Duty mode gives you the same capability that a dedicated TLV gives you. When in this mode, it will take 5 pictures per minute. You can use free software from Cuddeback that will allow you to watch a day's worth of images in only 10 minutes. Just imagine being able to monitor a large field or clearing prior to the gun season. Or how about being able to monitor an open wooded area to determine the best place to hang your stand before a bow hunt. You will be able to see where deer are entering or leaving a field, what trails they are following, etc. This is powerful knowledge for a hunter to have.
For the most part, I have been very pleased with my new Cuddeback Attack. The only complaint I have is with mounting and security. The mounting bracket that is included with the Attack is made of plastic. I don't know how long that will hold up. The bracket is mounted to the tree, and the game camera slides down onto it. So you must remove the Attack from the tree in order to access the controls or change memory cards. Removing the camera from the bracket isn't difficult, and I really don't have a problem with it, but felt I should mention it because it is a change from their previous models. The Attack will slide right back down onto the bracket with no need to reposition.
What I do have a problem with though is the lack of physical security features with the Attack. I paid over $200.00 for my Attack, and out of the box there is no way to secure this game camera to a tree. There are no padlock hole. In order to secure this game camera, you need to purchase a Cuddeback Lock Clip and Cuddeback Tilt Mount Bracket in order to secure it. I purchased a Tilt Mount & Lock Clip Kit for $20.00, which included the lock clip, two tilt-mount bracket, screws, and a Torx head driver. I have done a write up on how to secure the Attack models here: Cuddeback Attack Lock.