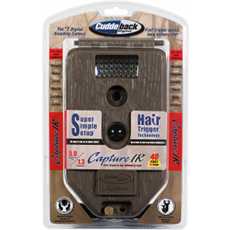 The Cuddeback Capture IR is a 5.0 megapixel infrared digital game camera. It uses a series if infrared emitters to also take 1.3 megapixel night time images out to 40 feet with no flash. These features, along with a $249.00 MSRP, are the only real differences between the Capture IR and its sibling, the original Capture.
The Capture IR has the same fast Hair Trigger, that fires in less than 1/3 of a second. The fast trigger speed is what Cuddeback is known for, and a big reason for their popularity. The Centered Subject Technology and the fast trigger speed allow this camera to provide high quality images with your game in the center of the frame.
I've complained a lot about poor battery performance with other brands of game cameras, but you won't hear that same complaint about the Capture IR. Cuddeback makes use of four D-Cell batteries that are capable of lasting for over 2000 images. This helps to lower the cost of operating your game camera.
The configuration and set up of this Cuddeback digital camera could not have been made more simple. It uses a rotary switch and A/B buttons to to set the Time, the Date, and the Year. Once set, all you have to do is choose your delay setting. This is done by turning the rotary switch to 30 seconds, 1 minute, 5 minutes, 15 minutes, or 30 minutes. The delay setting is the amount of time that the trail camera will wait after taking a picture, before it arms again and is ready to take an additional photo. A shorter delay is typically used on a trail, where game is passing through and tends to not linger. The longer setting is good on feeding areas where do linger. This longer setting helps you to not repeated take pictures of the same animal.
I prefer have more pictures than less pictures to review though, so I tend to use the lower settings. This game camera uses SD (Secure Digital) memory cards of up to 2 GB in size. This is a change in memory formats from previous Cuddeback cameras, which made use of CF (Compact Flash) memory cards. So use a 2 GB SD card to have maximum picture capacity. The Capture IR does have 30 MB of internal memory, but that honestly isn't enough to do much with. You can get approximately 100 pictures stored on internal memory. So make sure you are making use of SD memory.
To view your images, you have a few options. You can place your SD memory card in computer card reader on a PC or Mac. You can also insert the SD card in a digital camera, and use it's LCD viewer. Or a neat gadget available from Cuddeback is the CuddeView Field Viewer. This four-in-one viewer allows you to view the images and transfer the images from one memory card to another.
The firmware software that controls the Capture's features and operation is upgradeable. So if performance or feature updates are released, you can update the Capture to the latest code, and keep your camera performing at its best.
Cuddeback announced at the beginning of this year, that all of their game cameras would come with a 1 year warranty, and registration is not required. So if you are looking for an fast, infrared digital game camera, the Cuddeback Capture might just be the one for you.
For more information, sample pictures, and to see the lowest cost pricing, visit the links below.
Deals on Cuddeback Capture
Amazon.com
The most Trusted
online retailer.
eBAY
Will you find a deal?
No items matching your keywords were found.