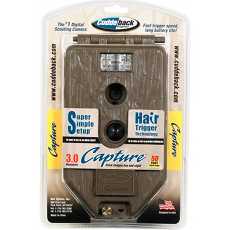 The Cuddeback Capture is one of Cuddeback's most popular digital game cameras on the market today. While this mostly has to do with Cuddeback's reputation for performance and ease of use, the $199.00 MSRP probably helps. This scouting camera is on the low end of the price range for their camera line.
Cuddeback is known for their fast trigger speed, and at less than 1/3 of a second, the Capture has a faster trigger than much more expensive trail cameras offered by the competition. Working in conjunction with their fast trigger speed is their Centered Subject Technology. The intelligence of their electronics provides higher quality images by snapping pictures when the target is at the center of the frame, giving less pictures of noses and tails.
The Cuddeback Capture is also known for its very good battery life. Powered by 4 D-Cell batteries, you can expect over 2000 images under typical weather conditions. This makes the Capture an economical camera to operate, as D-Cell batteries are more affordable.
Another reason that this game camera has become so popular is due to its ease of use. The configuration of the Capture is very simple, and you don't need to be a techno-genius to figure out how to program it. It uses a rotary dial to set the Date, Time, and Year. This dial can also be used to place the camera in Test mode, allowing you to check the detection zone and placement of your trail camera. It also simply arms the Cuddeback Capture, by setting the delay of 30 seconds, 1 minute, 5 minutes, 15 minutes or 30 minutes. Cuddeback will recommend that you set the delay based upon the location your camera is placed in. For example, use the 30 second and 1 minute settings for trails and scrapes, and use the higher delay settings for feeding areas where game will tend to linger. I prefer to use the largest memory card that I can, in conjunction with a shorter delay. It is better to have more game images to review than fewer images, especially if that shooter buck lingers in front of your digital game camera. The Capture accepts a 2 GB Secure Digital (SDRAM) memory card, but do take note that SDHC cards are not supported.
This is a 3.0 megapixel, flash-based digital game camera with a flash range of 50 feet. It shoots pictures only, no video.
The TheftStop password protection technology that is found on the NoFlash and ExPert models is not available on the Capture. You do however have a padlock hole for securing your camera to the tree and to prevent tampering. This will accept a 1/4 inch lock, and it is highly recommended that you secure your camera to protect it from would-be thieves. Another great option is the Cuddeback CuddeSafe, which is a metal security lock box to protect from both theft and damage.
The Cuddeback Capture does come with 30 MB of internal memory. But don't bother with it, as it will only allow you to store approximately 100 images. You will want a number of trail camera memory cards on hand to swap out when visiting your camera. Where the internal memory is helpful, is if you think you are having trouble with a memory card. The internal memory can be good for testing your game cam.
The raised camo pattern on the weatherproof housing has that signature Cuddeback look. If Cuddeback hasn't done enough already to create and avid fan base, they announced on January 1, 2010 that all of their cameras would feature a 1 year warranty with no registration required.
For more information, sample pictures, and to see the lowest cost pricing, visit the links below:
Deals on Cuddeback Capture
Amazon.com
The most Trusted
online retailer.
eBAY
Will you find a deal?
No items matching your keywords were found.