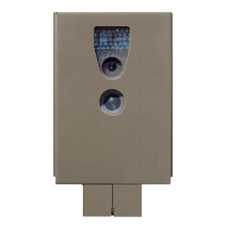 The Cuddeback CuddeSafe is a game camera security box designed specifically for Cuddeback scouting cameras. If you have ever been a victim of game camera theft like I have, then you will never place a scouting camera in the woods again without taking the precautions to secure it.
The CuddeSafe provides protection on two levels; protection from theft and protection from damage. It is a heavy duty, all metal design, with cut-outs for the lens and flash to allow unimpeded operation. This security box attaches to a tree with a lag bolt from the inside. The Cuddeback camera is then placed inside the security box, which is then locked tight with your own padlock. It also has a built-in flange to protect from bolt cutters.
Theft of a game camera by trespassers is always a concern, and it will just about take a thief with a chainsaw to walk away with your camera (and part of the tree trunk). By sinking a lag bolt into the tree from the inside of the security box, you can be assured that it is secure.
Game camera damage from bears is also a big problem in many areas. Bears are as curious as they are strong and destructive. I have seen pictures of game cameras that have been shattered by a curious bear. The Cuddeback CuddeSafe is like a suit of armor for your favorite Cuddeback camera.
Game cameras cost a lot of money, and you need to take the appropriate precautions to protect and secure your investment. For more information about the Cuddeback CuddeSafe, and to find the best deal, see the links below.
Deals on Cuddeback CuddeSafe Security Box
Amazon.com
The most Trusted
online retailer.
eBAY
Will you find a deal?
No items matching your keywords were found.