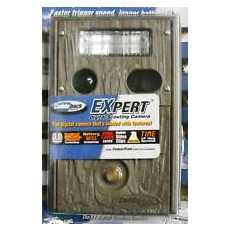 The Cuddeback ExPert is another one of the high end game cameras in their popular trail camera line. It has the same "instant trigger" as the NoFlash. This fast trigger is what has elevated Cuddeback's reputation above the competition.
This is a flash-based digital scouting camera that provides 3.0 megapixel resolution images. For night time pictures, a high performance strobe flash with a range of up to 60 feet illuminates your game. You do also have the ability to shoot videos with the ExPert, but they are daytime only. Images are stored on Compact Flash memory cards. It is powered by four D-cell batteries that (depending upon the temperature) will provide between 800 - 1600 pictures on a single charge. Lower temperatures will stress your batteries more than warmer temperatures.
This game camera can be configured using an EZ user interface, or an Advanced user interface. A five key touch pad and an LCD display is used to set your camera up. Running this game camera in Advanced Mode allows you to take advantage of some special features that the Cuddeback ExPert offers.
TheftStop Password Protection is a great feature developed by Cuddeback, and is available on the ExPert and the NoFlash models. You have an Owner Password and a Lock Password. You have the ability to add the owner name and phone number into the camera's electronics. This owner password protects these settings from modification. The Lock Password is required to use the Cuddeback ExPert. When the camera is powered on, this password must be entered. If you have these passwords modified from their factory defaults, then you game camera can be rendered unusable to a would-be thief.
Another advanced feature is the ability to control the operating time for this game camera. You can specify that the ExPert runs ALL DAY, DAY ONLY, NIGHT ONLY, or SPECIFIC HOURS. For example, if deer aren't moving during the heat of the day, and all you are getting are pictures of squirrels, then you can set the camera so that it is not active during the timeframe that you specify. This can help to maximize the quantity of quality images, and save on battery life.
A useful advanced feature is the Surveillance Mode. In this mode, you will not miss recent pictures because of a full memory card. If the card is full, then the oldest image will be deleted to make room for the newest image. This is ideal for ensuring that you always have the latest activity captured.
A really cool feature of this scouting camera is the Time Lapse Photography mode. You can set this camera to automatically capture images at designated intervals. You can come up with numerous creative uses for this feature. Where I see a big benefit from this mode is for capturing images of game that are too far away to trigger the infrared sensor. For example, I placed my ExPert on the edge of a field that I was planning to hunt during the muzzleloading season. As game passed near my camera, the sensor was triggered and I got pictures of those deer. But I also had this camera set up to take a picture every hour. I was amazed by the number of deer that I saw in this field that were too far away to normally trigger my camera's sensor (but close enough for me to reach out and touch them with my Knight Disc Rifle). It helped me make my decision to hunt this location.
You have the ability to control many other settings on this camera, like flash power, the sensitivity of the motion sensor, and more.
The Cuddeback ExPert has a rugged weather resistant case, and mounts to a tree with a wood screw that passes through the unit from the inside of the camera housing. This is great for making theft more difficult, but you should still use a lock to prevent the case from being opened. A lock with a 3/16" shackle can be added, and for extra protection, you can use a security cable around the tree. I feel that the best option for security though is the Cuddeback CuddeSafe. This all metal security box is designed specifically for Cuddeback cameras, and will help to protect them from theft, as well as damage from bears or other wildlife.
So if you are after a quality game camera with consistent performance, then give the Cuddeback Excite a closer look. For more information and to compare pricing for the best deal, see the links below.
Deals on Cuddeback Expert
Amazon.com
The most Trusted
online retailer.
eBAY
Will you find a deal?
No items matching your keywords were found.