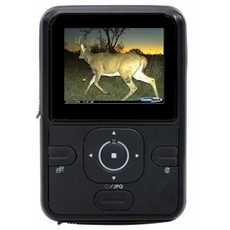 The Cuddeback CuddeView is the perfect accessory for any game camera enthusiast. This small hand-held device offers an incredible amount of convenience, and once you've used it, you won't find yourself in the field without it. So let's take a look at what this Cuddeback 4-in-1 viewer will allow you to do.
As an image viewer alone, the CuddeView is worth the money. You can insert your CF or SD memory card, and view your images on the spot using the 2.4 inch TFT color display. By using the multi-function button, you can scroll forwards and backwards to review the images on your memory card. You also have the ability to zoom in on your images and pan around so that you can to see enlarged areas of the images. This is great for close up studying of that rack on the monster buck you captured a picture of.
You also have the ability to copy images from one memory card slot to another. I love this feature, because it minimizes the number of memory cards required to keep all of your game cameras operating. As you visit each cam, you can pull the memory card and use the CuddeView to consolidate images from multiple memory cards onto a single card to bring home. This allows you to put your original memory cards right back in the trail camera and eliminates the need for card swapping. You also have the ability to delete images on memory cards using the CuddeView.
You can connect the TV cable to the viewer, and plug it into your TV for larger screen viewing. You can then scroll through the images and see them on the big screen in full detail. This is a great option if you want to drop in on your hunting buddy and show off your recent game camera pics.
The Cuddeback CuddeView also serves as a PC memory card reader. You can connect the CuddeView to your PC via a USB cable, and your memory cards will appear as removable drives to your computer's operating system. This allows you the capability to drag and drop your game camera pictures from the memory card to your PC or Mac.
Does your printer support PictBridge technology? If so, you can connect the CuddeView directly to your printer, and print the pictures directly from the viewer.
As an added bonus, there is a built-in LED light on the back of the viewer, that you can use as a small flashlight. This comes in very handy if you are checking your game cameras after dark.
So what comes in the box when you purchase a Cuddeback CuddeView? You get the viewer itself, an operating manual, a CD, a soft carrying bag for protection, a carrying strap, a USB cable for your computer, and a TV cable. The CuddeView also has a long life internal lithium-ion battery. So you don't have to worry about replacing batteries, you just connect it to your PC with the USB cable, and the internal battery will be recharged via your computer.
For more information and to find the best deals on the CuddeView 4-in-1 Viewer, see the links below.
Deals on Cuddeback CuddeView
Amazon.com
The most Trusted
online retailer.
eBAY
Will you find a deal?
No items matching your keywords were found.