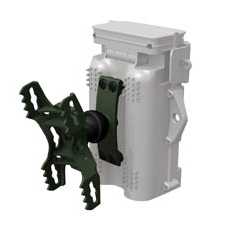 The Primos Pivoting Mount (Model No. 63090) is a handy optional accessory that is compatible with all of the TRUTH Cam scouting cameras.
This game camera mount screws directly into the four threaded brass inserts on the back of the TRUTH Cams. The Primos Pivoting Mount then straps directly to the tree. It has a nice set of tree-gripping teeth to provide a solid mount that won't slip.
By using this pivoting mount, you can use the rotating axis to get the perfect angle and elevation that you are looking for.
It never fails... You are in the woods, mounting a game camera on that perfect spot you want to scout, and the only good tree is crooked. You've probably found yourself in this situation too, and have done what I typically do. You start looking for sticks to wedge in between your game camera and the tree, trying to adjust the angle. Well, you can forget doing that with the Primos Pivoting Mount. You'll get a perfect angle every time!
See more details below, and compare the pricing for the best deal.
Deals on the Primos TRUTH Cam X