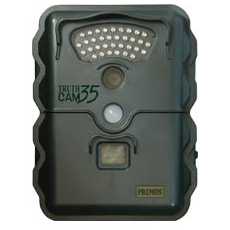 The Primos TRUTH Cam 35 (Model No. 63010) is the entry level game camera from the Primos TRUTH Cam line of infrared digital game cameras. After reviewing the specs for this scouting camera, I was shocked to see a manufacturer's suggested retail price of under $120.00. I was even more shocked to see this game cam selling for less than $100.00 at major online retail outlets.
Primos seemed to have three major goals in mind with the TRUTH Cam 35.
Produce a feature-rich scouting camera that beats the competition in their price range.
Produce a camera that (although feature-rich) is still easy to configure and use.
Sell that camera at a low cost, making it accessible to everyone.
They just might have hit the mark...
The TRUTH Cam 35 is an infrared digital scouting camera that is capable of capturing both pictures and videos during the day and at night. It has a bank of 35 LEDs (hence the name TRUTH Cam 35) that allows it to illuminate targets out to 40 feet, even in pitch darkness.
The camera has a 3.0 megapixel resolution and uses SDRAM memory cards of up to 8 GB in capacity. The images captured will also display the time, date, temperature and moon phase information.
The specs state that the trigger speed is less than 1.5 seconds when coming out of sleep mode, and 3/10 of a second when not in sleep mode. I think Primos was being generous with their 1.5 second claim though, because independent tests show this trigger to be closer to 1.25 seconds. Either way, a 1.5 second trigger speed for a low cost game camera definitely has me impressed. That puts this game camera in the classification of a true trail camera, instead of a "feeder camera".
The TRUTH Cam 35 uses 4 D-cell alkaline batteries. Stick with Energizers or Duracells to maximize your battery life. The off-brand batteries just won't provide you the same life. These batteries are easily inserted in two battery tubes on the right and left side of the camera, and you don't need to remove your cam from the tree to change batteries.
Another nice feature of this game cam is the external LCD viewing window on the front of the camera housing. It allows you to see the battery life as well as the number of pictures or videos that have been taken.
I'm also pleased to see that Primos has provided a molded security cable hole that runs all the way through the case. This allows you to use an in-line security cable, such as a MasterLock Python cable lock to secure your investment to the tree. A separate lock can be added to the game camera door, and should be used. I would like to see this accept a heavier gauge lock, but the lock hole is sufficient, considering that it isn't provided as the primary method of theft prevention. This door protects your camera controls, as well as your SD memory card, so a small lock should be used on it if you have any concerns of theft in your area.
If you are in the market for a low cost scouting camera, that isn't short on capability, then the TRUTH Cam 35 is worth a closer look. See more details below, and compare the pricing for the best deal.
Deals on the Primos TRUTH Cam 35