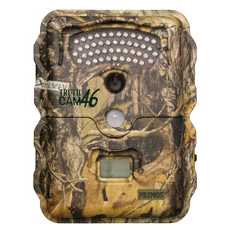 The Primos TRUTH Cam 46 (Model No. 63020) is a step up from their entry level game camera; the TRUTH Cam 35. It contains some more advanced features, like the ability to adjust the number of LEDs that will be active for low light pictures and videos. All 46 LEDs are used by default, but you can set the TRUTH Cam 46 to use only 25 LEDs. This allows you better control over battery life, but the tradeoff is a lesser range and pictures may not be as bright.
This digital game camera is capable of shooting in 5 megapixel resolution, but you have the option of selecting 3 or 2 megapixel resolutions. By default, the 3 megapixel resolution is used, which will allow you to store approximately 6,600 images on an 8 GB memory card. This game camera uses SDRAM memory cards of up to 8 GB maximum size. By default, one picture is taken upon each activation of the passive infrared sensor. You have the option to set this in burst mode though, and have 3 or 5 images taken upon each activation. Burst mode is a great option for capturing images of deer on the move. If that buck of a lifetime walks past your game camera in burst mode, you can have multiple images of him to review. The default 1 minute delay can be modified to 5 seconds, 10 seconds, 30 seconds, 30 minutes, or 60 minutes. This delay can be used to define the amount of time the camera should wait after the sensor is triggered before it arms again and is ready to take more pictures.
If you are into video, you have multiple resolutions and lengths to choose from. You can shoot high resolution videos (640 x 480) in 15 or 30 second lengths. The file sizes are larger, but your videos will show better detail. You can also shoot low resolution videos (320 x 240) in 15, 30, or 60 second lengths. The low resolution videos have smaller file sizes, so you will be able to store more videos on your memory card. They will show less detail than the high res videos though.
The TRUTH Cam 46 has an aesthetically pleasing design, that is both low profile and sporting a Matrix camouflage finish. There are 4 sets of 'tree gripping' teeth on the back of the camera housing that gives it a firm mount to the tree. The included tree strap comes in a camouflage pattern as well. This is a nice change from the black tree straps that many other game camera manufacturers use, which are easily seen by would-be thieves and draw attention to your camera. We are also pleased to see the security cable slot that runs through the camera housing. Use a Masterlock Python cable or other in-line security cable to protect your investment from theft. The case also has 4 threaded brass inserts on the back, which allow this camera to use the Primos Pivoting Mount. This mounting bracket can be perfect for getting an ideal camera angle.
The TRUTH Cam 46 is packed with additional features. You get date, time, temperature, and moon phase stamping on each image. The trigger speed is rated at 1.5 seconds. That trigger speed drops to .3 seconds if the camera is not in sleep mode. This is ideal if you are using a 5 or 10 second delay. If there is still activity, this trail camera will continue to fire quickly. This camera even comes with an internal battery, which will save your date, time, and camera settings if the 4 D-Cell batteries are removed.
One of my favorite things about this infrared digital game camera is its ease of use. Primos has identified 'optimal' settings that work best for most scenarios, and set those as the camera defaults. You have the ability to modify these settings through the glowing green LCD screen and easy to use menu buttons. This camera was so simple to set up, that I didn't even need to look at the manual. As an added bonus, Primos has added a set of easy to understand, quick instructions on the inside of the camera door. So you never have to be worried about being without your manual.
The Primos TRUTH Cam 46 is a welcome addition to the game camera market that is becoming increasingly crowded with either high cost or low quality game cameras. They have found a sweet spot by providing a feature rich game camera at a respectable price. See more details below, and compare the pricing for the best deal.
Deals on the Primos TRUTH Cam 46