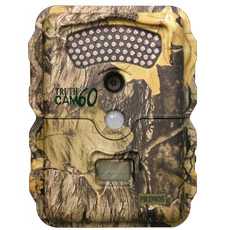 The Primos TRUTH Cam 60 (Model No. 63030) is one of the higher end game cameras in Primos new TRUTH Cam line of infrared digital game cameras. It has 60 LEDs that gives it an impressive extended nighttime range of 60 feet. You do have the ability to limit the number of active LEDs down to 36 if your situation doesn't require long range. This will shorten the range and brightness, but increase your overall battery life. This 7 megapixel game camera provides high resolution images and videos that will be stored on SDRAM memory cards of up to 8 GB in size, allowing you to capture thousands of pictures. At less than $180, you may be pleasantly surprised by what Primos is offering with the TRUTH Cam 60.
This is an infrared digital game camera, which will allow you to capture images and videos during the day or night (with no flash to spook your deer). It has configurable resolution modes which you can choose depending upon what your needs are. It can shoot pictures in 2, 3.1, 5, or 7 megapixel resolutions. For video mode, you can shoot high res videos in 640x480 resolutions in 15 or 30 second lengths. Low res videos at 320x240 resolutions in 15, 30, or 60 second lengths can also be chosen.
You also have the ability to set a delay of 5 sec, 10 sec, 30 sec, 1 min, 30 mins, or 60 mins between each activation of the passive infrared sensor.
The date, time, temperature and current moon phase is also over-layed on the bottom of each image. This will allow you to see exactly when, and under what conditions, your images were captured.
The marketing literature claims this camera has a 1.5 second trigger time, but independent test show this to be closer to 1.25 seconds. That's not to shabby for a feature rich game camera with a low price point.
The camera case has an attractive design with a Matrix camo finish. Even the camera strap comes in a camo pattern instead of the easily spotted black straps that many game camera manufactures supply with their cameras. The case has tube that runs through the housing that will accept a cable lock, such as the Masterlock Python cable. It's great to see this emphasis on physical security. There is a set of 4 'teeth' on the back of the case that allows this camera to mount snugly to a tree without shifting. The camera door that covers the LCD screen and menu buttons also accepts a small gauge lock. It is definitely recommended that you use a lock on this door, because this also secures your memory card. The door also has a clear window that will allow you to see the number of images captured and battery status, without having to open the game cam door.
The TRUTH Cam 60 is powered by four D-Cell alkaline batteries. If you are going to place this camera in a very remote location, you may choose to use an external 6 volt battery, which can be connected to the bottom of the camera.
Primos has packed a lot of muscle into this low cost game camera. If you are in the market for a new scouting camera, Primos is definitely worth a look. Even though they are the new kid on the block in the game camera industry, they have definitely raised the bar.
See more details below, and compare the pricing for the best deal.

Deals on the Primos TRUTH Cam 60