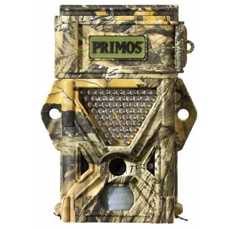 The Primos TRUTH Cam X (Model No. 63040) is at the high end of the TRUTH Cam game camera product line. It is a 7.0 megapixel infrared digital scouting camera, with 62 infrared LEDs. You can typically pick this trail camera up for under $280.00, which is much less than other game cameras on the market with comparable quality and features.
Primos broke the mold with the TRUTH Cam X, and really made this infrared camera stand a step above the other models in the TRUTH Cam line of digital game cameras.
First and foremost, they have gotten the trigger speed down to under 1 second. While this may not rival the trigger speed on a Reconyx, it definitely puts the TRUTH Cam X ahead of most other game cameras on the market. Like the other cameras in the Primos product line, the TRUTH Cam X is powered by four D cell batteries.This infrared digital game camera can capture both pictures or videos during the daytime or in the pitch dark.
The camera housing sports a more compact design than other TRUTH Cam models, but even though it is smaller, that still didn't stop Primos from packing more LEDs into the TRUTH Cam X. There are 62 infrared LEDs to be exact, which will give you an extended nighttime range of up to 65 feet. The Matrix camouflage pattern will help this camera blend into the woods and be less detectable. You will also appreciated the security cable hole which will allow you to protect your investment from would-be thieves.
There is an integrated, full color 2.5 inch screen that allows you to view or delete photos directly on the game camera itself. It also serves as the menuing system, providing you an easy to use, icon-based menu for programming and configuring the TRUTH Cam X's settings. And you will never have to guess when it comes to mounting and aiming your game camera, wondering if you are covering the desired area or not. This screen provides a live preview to ensure you have it aimed perfectly at that scrape or trail you want to cover. I don't know of any other game camera on the market that does this today.
We mentioned that this game cam has a maximum resolution of 7 megapixels (5 megapixels for nighttime images). You do have the ability to adjust this down to 5, 3.1, or 1.3 megapixels for smaller image sizes. But saving memory card space isn't that much of a concern for us, considering that this game camera accepts up to an 8 GB SDRAM card. So go ahead and make use of the burst mode feature, that will fire off 1, 3, 5, 7, or 9 pictures upon each activation of the passive infrared sensor. The burst mode is a great feature for capturing multiple images and angles of your game, that might otherwise wander off before the delay setting you have configured arms the sensor for activation again. The TRUTH Cam X also shoots videos in 640 x 480 resolution in lengths of up to 1 minute. The pictures videos will all contain the moon phase information, the date, time, and temperature.
Primos has managed to enter the game camera market and surpass many of their competitors in one fell swoop. They have raised the bar for their competition, and we can't wait to see what they have up their sleeve next.
See more details below, and compare the pricing for the best deal.
Deals on the Primos TRUTH Cam X