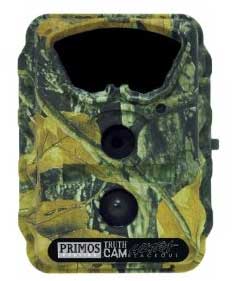 One of the biggest complaints that many hunters have with infrared trail cameras today is the concern over the glow from the infrared LEDs spooking their game.  I am a big fan of infrared game cameras because I love being able to capture video at night.  But I too have captured many videos of whitetails that have obviously seen my glowing LEDs and have seen this make them uneasy.  Well the folks over at Primos have come out with a new addition to their popular Truthcam line of game cameras, and the Truth Cam Ultra Blackout solves this problem of glowing LEDs.
There is no flash, no glow, and no light from the Primos Truth Cam Ultra Blackout which makes this camera completely undetectable by your game.  This configurable camera gives you the option of capturing high or low resolution photos and high or low resolution videos during the daytime or at night in complete darkness.  The daytime photos and videos will be in color and the night time images are in black and white.  High resolution images are 3,072 x 2,304 pixels and the low resolution images are 2,592 x 1,944 pixels.  This game camera support a burst mode which will fire off between 1 to 5 pictures with each activation of the passive infrared sensor.  A delay mode is also supported and is configurable between 5 seconds, 10 seconds, 30 seconds, 1 minute, 5 minutes, and 30 minutes.  The high resolution videos are 640 x 480 at 30 frames per second, while the low resolution videos are 320 x 240 at 30 frames per second.  You have the choice of recording your videos in 5, 10, 15, 20, 30, and 60 second lengths.
While you might be concerned about the storage capacity of this 7 MP trail camera, have no fear because it accepts up to a 32 GB SD memory card.  Also supported are 2 GB, 4 GB, 8 GB, and 16 GB memory cards.  With an average high resolution file size of 750 KB, you can store up to 2,500 images on a 2 GB memory card, and 40,000 images on a 32 GB memory card.  The number of images is substantially higher for low resolution images, but we recommend shooting only in high res to get the best image quality.  A 15 second high resolution video will have an average file size of approximately 21 MB.  This means you can store up to 95 videos on a 2 GB memory card or 1,520 videos on a 32 GB memory card.  The low resolution videos have an average file size of 5.3 MB, so you can get 380 videos on that same 2 GB card, or 5,760 videos on a 32 GB card.  Again, we favor shooting in high res only.
The Truth Cam Ultra Blackout is also capable of operating as a time lapse video trail camera, just like the popular Plotwatcher from Day6Outdoors.  It offers a standard time lapse video mode that will take a picture at predetermined intervals that you specify (5, 10, 15, 20, 30, or 60 seconds).  This is great for monitoring activity in fields or open areas of woods.  It is nice because you can still capture images of game that are too far away for the passive infrared sensor to detect, and you can monitor their movement through these areas.  For example, you can see where deer are typically entering the fields, and set up your stand for an ideal shot.  One very innovative feature offered by Primos in the Ultra Blackout is the Time Lapse + Photo mode.  This allows the Ultra Blackout to operate as a TLV, but if game passes in front of and triggers the infrared sensor then a 3 shot burst of photos will be captured.  So you get the benefit of a typical game camera plus a TLV in one trail cam.
Now let's look at a few of the other specifications of this scouting camera:
Field of View is 55 degrees.
It has a Fixed Zoom with an ISO Sensitivity of 100.
There are 60 high-output infrared emitters capable of lighting up your game out to 50 feet.
The trigger time is 1 second.
It runs on 8 AA batteries.
The battery life will vary depending upon the temperature and mode of operation.  If just images are being captured and there is limited activity, then the batteries can last up to 1 year.  In a time lapse video mode where pictures are constantly being captured, you will get 5 to 7 days of operation if pictures are captured at 10 second intervals, and 10 to 14 days of operation if pictures are captured at 20 second intervals.  Time lapse video is definitely the most demanding mode for impacting your battery life.
Image Stamping is included on both the pictures and the videos.  You get the burst count, moon phase info, temperature, time, date, and day of week included in the info bar of each image.  For videos, you get the date, day of week, temperature, moon phase, and the time.
So what do we like about the Primos Truth Cam Ultra Blackout?
We like the no glow, so that it doesn't spook your game.
We like the battery life.
We like the slide switches used to program this camera's settings.  Forget about navigating through complex menus.  You simply use a slider switch to select the mode of operation, the video length or number of images, and the delay setting.  This camera couldn't be easier to use.
We like the 1 second trigger time.  While it isn't as fast as a Reconyx or a Cuddeback, it sure beats most of the other game cameras on the market today.  A 1 second trigger time is pretty respectable.
We like the high capacity storage.
We like the fact that this camera can accept a Master Lock Python security cable that will run through the case to protect your camera from theft.  Too many game camera manufacturers are overlooking theft prevention these days, especially on the small form factor game cameras.  The camera door can also be locked with a padlock to prevent the theft of your memory card.
We also like the small size of this trail camera.  At just 5.25" long x 4.25" wide x 2.5" deep, it can fit in the palm of your hand.  The small size makes it harder to detect by trespassers or would-be thieves, especially with the camo pattern used on the case.
Primos has raised the bar once again, capitalizing on the success of their previous Truth Cam game camera models, like the Primos Truth Cam 46.  If you are in the market for a new game camera this year, give the Primos Ultra Blackout a closer looks and please feel free to leave a comment on how your personal experience with this scouting camera goes.