Wildgame Innovations X6C
I have been personally testing a number of game cameras lately, in the hopes of finding a trail cam that offers good quality and performance at a low cost.  So I have turned to the Wildgame Innovations X6C after reading some positive comments in forums about image quality.  This is an inexpensive game cam, so it definitely fits into the low cost category that I've been searching for.
What to Look for When Buying Scouting Camera
Scouting cameras can have a number of special features, and higher performance typically comes with a higher price.  The key to buying a trail camera is to find one in your price range that offers a good price to performance ratio.
Important features to keep in mind are:
The camera's resolution
The flash range
The sensor range
The image/video capability
The memory capacity
The ease of use
The duty cycle
The additional features
If you buy a game camera based on the price alone, then you may find yourself disappointed with the capability and performance.  I think this holds true with most all electronic devices.  For example, a cheap TV may let you watch your favorite show, but may not have the best picture.   My goal here is to find a game camera that offers satisfactory performance on a number of levels, while not breaking the bank.
How Many Megapixels?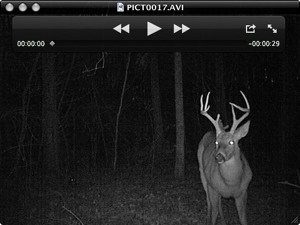 The Wildgame Innovations X6C is a 6.0 megapixel scouting camera.  The higher the number of megapixels means the better the image quality can be.  The more pixels in the image allows for better detail in the pictures.  A 6.0 megapixel capability is very respectable.
Stronger Flash for a Longer Reach!
The X6C is an infrared digital game camera.  It uses a series of 18 high-intensity LEDs to illuminate your target at night while a picture or video is taken.  This means that no visible flash is required to take pictures at night.  This also gives you the capability to take videos at night; something that flash-based cameras are not capable of.  The IR flash range is good to about 40 feet, which is respectable for a camera in this price range.
It Has Got To Sense It to Shoot It!
The detection range of the passive infrared sensor is very important.  If the camera can't sense the game passing in front of the camera, then it isn't going to shoot any pictures or videos.  The X6C has a detection range of 40 feet.  This matches the IR flash range, which is also very important.  If the detection range was longer than the flash range, then a game camera could be triggered by game that is too far away to be illuminated by the IR flash.  A 40-foot flash range is respectable for a camera in this price range.
Image and Video Capability
The Wildgame Innovations X6C has the ability to capture still images or videos.  It can do this during the daytime with natural light, or at night via the infrared emitters.  It can output high, medium, or low-resolution pictures and videos.  High-resolution mode offers the best quality, but also requires more space on your memory card to store the pictures and videos.  The pictures are stored in a .JPG format.  The videos are 30 seconds in length and are stored in a .AVI format.
Did You Forget Your Memory???
The X6C has 64 MB of on-board memory.  This honestly isn't enough memory, considering that you can get about 88 pictures or 44 videos before completely filling the memory.  Once the memory is full, no new pictures are saved.
The X6C accepts standard SDRAM memory cards of up to 8 GB in size.  You can also use 1 GB, 2 GB, or 4 GB SDRAM memory cards with this camera.  Just by using a 1 GB memory card, you can increase the number of images to 1,400 and the number of videos to 700.  If you were to use an 8 GB memory card, you could store 11,200 pictures or up to 5,600 videos.
That 64 MB of on-board memory is really just there for testing your game camera.  It really isn't feasible to use your X6C with just the on-board memory.  Make sure you have at least two SDRAM cards.  If you have two cards, you can swap out an empty card for a used card when you check your game camera, and view your pictures or videos at home.  This way, your X6C can remain in the woods and stay in operation.
Ease of Use
This game camera was pretty simple to set up.  Out of the box, it is pre-set with optimal default settings.  The defaults will have it set to run 24 hours a day, capture still images, and incur a delay of 30 seconds between each activation of the sensor.
You can easily choose any settings that work for your needs.  There is a large, easy to read, 2 inch LCD display on the X6C that is back-lit in blue.   This single LCD display shows you all of the cameras current settings and available options.
There is a series of up/down and left/right arrows with a center OK button.  Changing the options are as simple as: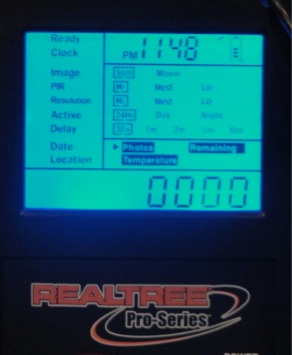 Pressing the up or down arrows to highlight the option you want to change.
Pressing the OK button to select that option.
Pressing the left or right arrows to highlight the setting for that option you wish to choose.
Pressing the OK button to select that setting.
You can use these arrows to set the date and time, image or video mode, the passive infrared sensor strength, the resolution, etc.  I configured this camera, and had it up and running without even opening the manual.
Battery Life
The X6C runs off of 8 AA Alkaline batteries.  The specs state that you can get approximately 4 weeks of operation on a single set of batteries when operating in the default mode.  This is typical for most game cameras in this price range, but I wish the battery life was a little longer.  This game camera can also accept an external power supply, so you may consider connecting an external battery for longer operation.
Additional Features that Sell This Camera
The X6C has some nice added features that really helped to sell me on this camera.
You are able to add Name or Location into your camera's electronics.  This can help you keep track of where your pictures were taken.  For example, I could have several of these cameras on a farm, and label them CornField, FoodPlot1, Hardwoods, or whatever I choose to name them.
The info strip included at the bottom of your images tells you the Date, Time, Photo Number, Location, and Temperature from when the picture was taken.
You can also set the hours of operation for the X6C.  You can choose from 24-hour operation, DayTime-only, or NightTime-only operation.  This can be very helpful depending upon what your monitoring needs are, and can also help to save battery power.
You can also choose between a 30 second, 1 minute, 2 minute, 5 minute, or 10 minute delay setting.  This will cause the camera to wait this amount of time in between taking each picture.
What Are Others Saying About the X6C?
The Wildgame Innovations X6C has an average 4 out of 5 star rating on Amazon.  This is pretty decent considering how critical game camera owners can be of new models.  Here are some of the comments to date:
"This is a Great Little Camera…"
"Why didn't I buy these sooner…"
"Nice little camera, Big 6 megapixel promises…"
"Great little camera…"
"Good Pictures…"
Any Complaints?
One complaint I read about this camera was related to the lack of security features.  There is no lock hole, so you can't lock this camera to a tree with a security cable.  I too have a problem with this, because game camera theft is a concern in my area.  I remedied this issue by purchasing a security lock box for this game camera.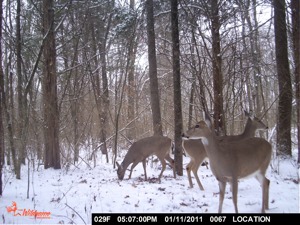 Another complaint I read had to do with the delay setting.  The shortest delay that you can select is 30 seconds.  I don't have a problem with a 30 second delay and think this is acceptable.  Otherwise you will end up with a bunch of pictures of the exact same animal if you use a shorter delay.  If you don't like the 30 second delay, then you can always go to video mode to capture all the action.
Another owner didn't like the fact that the Time and Date stamping is only on the pictures, not the videos.  I too wish that Wildgame Innovations would add the time and date stamping to the first frame of the videos, but the time and date can be found on the actual file itself by looking at the properties of the video file.  So this issue caused me no concern.
The last common complaint has to do with the trigger speed.  This game camera doesn't have the fastest trigger on the market, but I do feel that it is still acceptable for a low cost game camera.  I feel the trigger speed on this game camera is in line with other game cameras in the same price range.  If you want a really fast trigger, you aren't going to find it in any game camera in this price range.  You are going to have to shell out some more dollars, and buy a Cuddeback Capture.
Where Can I Read More Reviews About the X6C?
The best place to get more information and to read more reviews about the Wildgame Innovations X6C is on Amazon.com.  You can read reviews from other people who actually own and use this game camera.  Click Here to Read More.
Where is the Best Place to Buy the Wildgame Innovations X6C?
I have found the best pricing on the X6C on Amazon.com.  Unfortunately, I didn't purchase my X6C there, and I paid substantially more for it.
I have recently seen this game camera for sale there for as little as $109.66, with FREE Shipping.  If I had it to do over again, I would have purchased mine from Amazon.com.
You can check the current low pricing on this game camera here:  Wildgame Innovations X6C Low Price .
Do you own a Wildgame Innovations X6C?
I'd love for you to leave a comment below telling about your personal experience with this game camera.