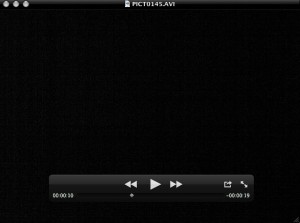 ** UPDATE 02-17-2011 **:  THESE STEPS WORKED AND RESOLVED MY ISSUES WITH DARK VIDEOS.  IF YOU ARE EXPERIENCING THE SAME ISSUE, FOLLOW THE STEPS BELOW.  PLEASE LEAVE A COMMENT IF THIS HELPED YOU AS WELL!
I've been trying to test the Wildgame Innovations X6C game camera over the last few weeks, and have struggled to find a camera that is functioning properly.  I may have a solution to the dark video issues.
The first X6C I got had some really grainy video.  Not what I would expect out of a 6.0 MP camera.  I contacted Wildgame Innovations support, and they were very helpful.  After describing the problems, the girl stated that the camera must have a malfunction, and recommended I return it for a new one.  So I took the trip back to Dicks Sporting Goods, and did an even trade out for a new one.
The second X6C that I got had some great daytime images and videos.  I was pretty impressed with the clarity and detail.  I saw an issue when I started reviewing the infrared videos that were taken at night.  They were completely dark, showing no images at all.  So I headed to a different Dicks Sporting Goods store to swap this one out.
I went to a different store to swap this camera out this time, thinking that the original store may have received a bad shipment, and that another store would have a different batch of cameras that hopefully wouldn't have this issue.  I was a little disappointed, when this third scouting camera exhibited the same issues.  Daytime pictures and video were just fine, the night time infrared images were completely dark.  No detail was in the images at all, not even from the numerous trees that are in this area.  So I placed another phone call to Wildgame Innovations this morning.
I explained the issues and the technician was very helpful.  He had me go through the following process to completely reset the X6C's electronics.
Remove the memory card.
Remove all of the batteries.
Press and hold the reset button for at least 7 seconds.
Reinstall the batteries.
Press and hold the reset button again for at least 7 seconds.
After going through these steps, I did some inside testing in a dark closet, and the infrared videos looked fine.  The camera is back in the woods and set for a night time only operation setting.  I am going to monitor this issue over the next few days and pull the memory card to see if the quality is better.  If not, then this camera is going back.  I've given them enough chances on this; more than I've given some other game camera manufacturers.
I really hope this resolves the issue, because I have heard a lot of good about this game camera.  I've heard the infrared images are excellent and show great detail.  I just haven't seen it yet, because I haven't gotten a model that I feel is working well.
More to come...
Do you have an X6C, and have you experienced similar issues?  Please comment and let me know your experiences with this game camera.