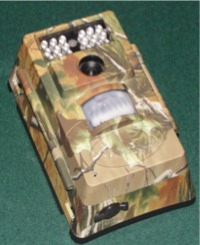 We have recently been reviewing the Wildgame Innovations X6C infrared digital game camera, and the initial results look good now that we have a good working model.
This review didn't start off all that great.  After experiencing an issue with dark videos, I had returned the game camera for another one.  I experienced the same issue with the next one, and contacted Wildgame Innovations Support.  I have to say that my call to Wildgame Innovations for help was a pleasant surprise.  I was immediately connected with a support technician, who helped me with my issue.  I can't say that I have ever gotten assistance that quickly when calling other game camera manufacturers.  WGI definitely gets an A+ grade from me when it comes to supporting their products.
The technician gave me a sequence of steps to follow which resolved my issues.  You can read more about those steps here:  X6C Dark Video.
This is an inexpensive game camera, so my expectations were not that high.  I found that the performance to price ratio was very good.  I was pleased with the number of added features that this game camera has.  The battery life could have been a bit better, and I would like to have seen a little faster trigger, but I really can't complain about this much due to the cheap price.  The X6C performs as good or better than comparable game cameras that cost much more.
I am definitely most pleased with the IR image quality.  This 6.0 MP trail cam offers good detail and definition in the images.  You can read more about this small form factor game camera from Wildgame Innovations here:  Wildgame Innovations X6C Review.